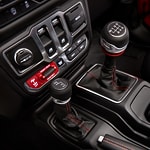 If you are looking for an excellent SUV for off-roading and has premium safety features, stop by Mullen Motors Inc to check out the Jeep Wrangler. The Wrangler is well known as a vehicle that does excellent exploring the outdoors, but it also has safety features such as a backup camera and automatic high beam headlights that are premium.
The Backup Camera for the Jeep Wrangler is excellent if you need to ensure that there are no obstacles in your way, whether you are off-roading or pulling out of your driveway. Also, there is a rear park assist system, which is terrific when you are parking in a big city.
The Jeep Wrangler also has auto-high beam headlamps, which are an excellent feature when driving at night and your surroundings are not illuminated. The automatic high beam headlamps are also great when off-roading because they will light up the whole area to make sure you are even safer.