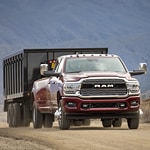 When you are in the market for a Ram 3500 pickup truck, you have a wide range of engine options to choose from to fit your desired work or driving style. It has a 410 horsepower 6.4-liter V-8 HEMI engine, which comes standard with all the Ram 3500 trims. This engine sets the pickup truck apart from its peers in the same class. It comes mated with a smooth-shifting eight-speed automatic transmission.
A torque of 429 lb-ft and a towing capacity of 18210 lbs. are provided by the powerful HEMI engine. This engine will comfortably haul 7,680 pounds when installed in a Ram 3500 truck. It is an ideal engine for daily commute and long-distance journeys requiring a lot of luggage and towing weight.
The Ram 3500 can tow and transport huge loads with its other two diesel engine options. Both engines have six cylinders with 6.7L Cummins high output engine and a 6.7L normal Cummins turbodiesel engine.