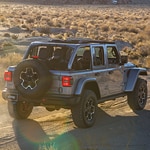 No matter where you go in the Jeep Wrangler, it has a unique interior that is well desired by people who like adventure vacations. Enjoy the easy ability to clean and still have a stylish interior with this Jeep SUV.
Stop by Mullen Motors Inc to talk to our staff about the easy way to clean the interior of this Jeep. You can even remove drain valves are so that you can wash out the interior of This SUV. The carpet is also weather-resistant, so you don't have to worry about a little bit of rain or mud when you have the roof off.
The Alpine sound system inside of the Jeep Wrangler is a wonderful touch because of the 552W amplifier as well as the soundbar that is overhead. The subwoofer that comes with the sound system is also all-weather, so you don't have to worry about it getting damaged.