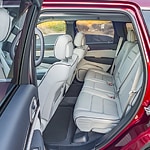 The Jeep Grand Cherokee offers a combination of comfort and interior design that drivers in Southold are sure to find interesting. At Mullen Motors Inc, we want to help you explore this mid-size SUV's interior features so you can see what the Cherokee can offer you.
With 84.6 cubic feet of space, the Grand Cherokee delivers a spacious interior that can satisfy a variety of needs. With 3 rows of adjustable seats, it can comfortably seat seven people at once while still leaving enough room to carry suitcases, groceries, gym and sport bags, and backpacks. To add, the foldable second and third rows give you the freedom to carry furniture, home improvement supplies, adventure gear and sporting equipment.
The Cherokee also offers a number of technological features that help maximize your comfort and relaxation. Adjustable LED lighting helps you adjust the ambience to suit your mood, along with automatic climate control that keeps everyone satisfied. The driver and front passenger seats also feature massage technology, memory and 16-way seating adjustment for maximum tranquility.