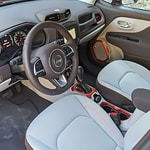 Despite its small size, the Jeep Renegade checks off everything on your list of essential vehicle features. This popular compact SUV is now available for you to see when you visit the Jeep experts at Mullen Motors Inc.
You will have hard a time deciding on the many seating options for the Renegade. Choose the deluxe black cloth with accent stitching, the McKinley leather trim with Tungsten stitching, the black matric topographic cloth with ruby red accent stitching, or more. It is easy to give your Renegade a personality of its own with so many interior seating offerings.
A variety of storage options makes it easy to pack a lot of your valuables into the Renegade. You can easily tuck away your essentials in the front-passenger seat footwell or use the rear cargo area for bigger items. Be sure to check out the available adjustable cargo floor for more storage.