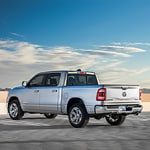 Want a light-duty pickup truck that can make your work day go by faster and more efficiently? If so, the RAM 1500 is an excellent pick.
With extreme towing capacity, the RAM 1500 has amazing strength. It was built from 98% steel and has the strength to show for it. It can pull up to 12,750 pounds and can carry over 2,000 pounds in its flatbed. What's more is that the RAM 1500 features a tailgate that opens in several different directions, including an 88-degree slope when pulled downward, making the process of loading that potential 2,000 pounds of cargo easier than ever.
With these abilities, it is no wonder that RAM 1500 trucks are known for their strength. Perfect for on the job or on the go, this pickup isn't your standard vehicle. It was built to take on tough loads so those same loads won't be so tough on you!