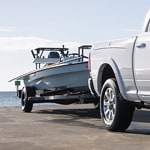 As a hard worker, when you promise a client to get the job done by a certain date, you want to make sure your vehicle is durable enough to fulfill that obligation. With a long-standing history of durability and integration of quality components, the Ram 2500 won't let you down. As one of Southhold's most frequently purchased heavy-duty pickup trucks, the Ram 1500 is made to withstand heavy loads and perform under pressure.
As a truck that is as tough as steel, the Ram 2500 stands true to its name and this automaker backs those claims. Built on a hydroformed steel frame that is rated to withstand 50,000 PSI, the Ram 2500 sports contoured front and rear rails for a sturdier suspension.
Built to last on the most rugged terrain, Ram offers a powertrain warranty to back its claims. Offering one of the best warranties for diesel and gas-powered trucks, the Ram 2500 is simply made to last. Come into Mullen Motors Inc to test out its durability today.